July 11th, 2015, I got the Grand Prize of Masters of Musical Whistling, held in Pasadena, LA. Here I'm going to tell you the winning speech.
First of all, the divisions in which I participated were "Pre-Recorded" and "Live-Band". The pieces I played were "Zauberkraft" and "Rosenkrantz" composed by Masashi HAMAUZU.
Here shows the reasons for my acquisition of the Grand Prize, which I estimated by myself.
Cause of Victory 1: Breath-Free Whistling Method
One is Whistling Method.
Generally, we can whistle with both breathing in and out. When playing pieces of songs, however, many whistlists can't totally control their pitch from the highest to the lowest with breathing in and switching "in" and "out" to play music to the extent of artistry.
I wasn't conscious of this difficulty because I have been doing as a matter of course, but my friend whistlist made me aware of this advantage by asking me, "When did you take breaths while you were whistling?", after I performed in the previous "Osaka International Whistling Music Contest".
In fact, other whistlists often take breaths and make noises of breathing in, and get my ears a little bothered. The more magnificent their play is, the more air is needed.
I chose the pieces which could make the best use of this advantage that I didn't need any breaths and declared right before my performance began, "To tell the truth, I don't need any breaths as long as I am whistling. So, would you please pay attention to my breaths and the difference from other whistlers?"
After I got the prizes, many audiences asked questions about this method, so that the judges may be appreciate for the difference, too.
I name this method "Breath-free Whistling" (like Warble whistling), in order for this method to be acknowledged as one of skills which is original for whistling.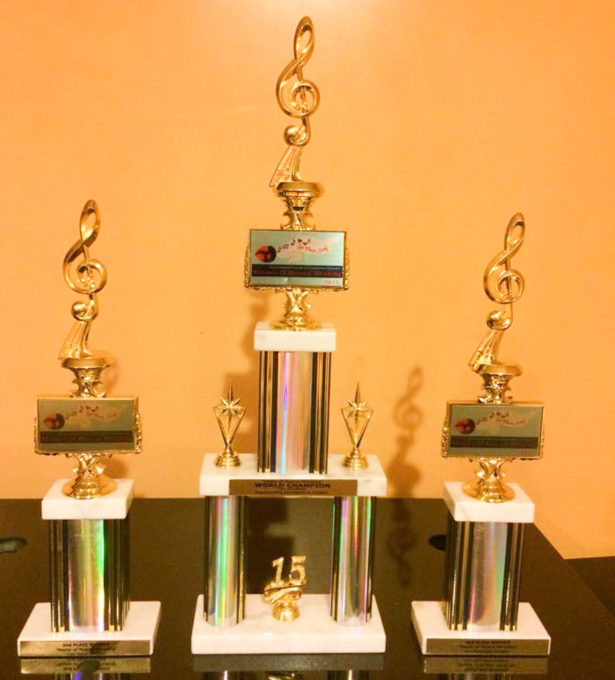 Cause of Victory 2: Choice of Songs (Improvisation)
The second is Choice of Songs.
The similarities of the pieces I chose are: their melodies were not completely decided until played, which means they were improvisation.
Audiences who actually listened to my play, please find "Zauberkraft" and "Rosenkrantz" from iTunes or Apple Music, and listen those. You will never listen the melodies like I played because I even composed those melodies for myself at that time.
Of course, I fixed the outlines in advance while practicing, but I mistook, or changed the plan, in this MMW. While playing (feeling embarrassed), I extemporaneously changed the melodies, arranged the rhythm and balance, and reconstructed the conclusion.
That means I chose (composed) the songs which nobody could point out if I made mistakes.
So, you can't listen the same melodies any more because I even don't remember how I played.
I assured myself that this is my style which led me to the victory.
From this time, I am going to develop my career as "Breath-free improvisational whistlist".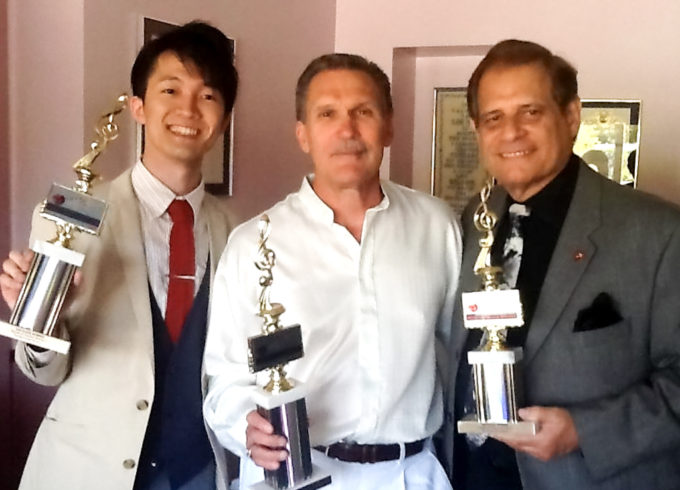 Best friend: Daisuke
Lastly, let me talk about Daisuke, my best whistlist friend, who got the 9th place with me in Allied Art Category of IWC 2008 and suddenly passed away in 2012.
I am not going to tell you any fantastic stories like he would come into my dreams at every night during my stay in LA, but quite a few times I thought this way, "If he were alive here, it might be more fun and exciting."
At least, we should have made men's conversation in Kyoto & Mie dialect, like:
"Hey, Daisuke, that girl is absolutely pretty, isn't she?"
"Oh, I knew it! You're talking about Molly, aren't you?"
"Definitely. She is a beauty of Millennium of whistling world."
"I agree. She's pretty. Makes me thinking about international marriage."
"Huh? You've jumped too many steps."
"Why not? If I got married with her, we would be given a child like Becky (a half celebrity in Japan)."
"I don't think so. I bet Trindle (another half celebrity) in case of her."
"mmm… but I like Becky better."
"Really? I never hesitate to get Trindle."
"It's good for us to taste different."
"Wait, Daisuke. Molly's friend is even more beautiful like a model."
"Oh. my goodness! Very nicely long legs! But we can't even talk to her…"
R.I.P.